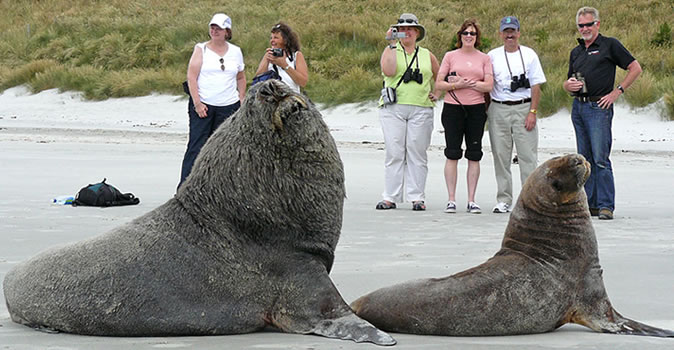 Our multi award-winning Standard Tour
Penguins, Fur Seals, Sea Lions, the Royal Albatross, and if that isn't enough another 25+ species of seabirds and waders. How much can you take?
This is our most popular and multi-award winning tour, departing daily from Dunedin city in the afternoon to visit the beautiful Otago Peninsula and its wildlife 'hotspots'. The tour caters for small groups providing a glimpse into the world of tourism and conservation working in a symbiotic relationship for the benefit of the wildlife providing absolutely unrivalled viewing of estuarine and marine wildlife.
Our knowledgeable guides deliver commentary of activity being viewed and visit isolated places inaccessible to others providing the best possible viewing of unique peninsula wildlife. Our private conservation area ensures exclusivity with brilliant opportunities to photograph Hooker's Sea lions, Yellow-eyed Penguins, Blue Penguins, a breeding colony of New Zealand Fur Seals and other sea bird colonies. At Taiaroa head from a cliff face we watch and observe Royal Albatross flying about the headland and to and fro from the ocean. A further 25-30 other estuarine and marine bird species are seen during the experience around the bays and lagoons.
Within our conservation area close up unobtrusive viewing from beach locations and strategically placed observation hides is guaranteed. Most days Albatross are seen flying at Taiaroa headland, with a greater opportunity from our conservation area strategic observation point to see many other pelagic sea bird species flying close, including numerous petrel and shearwater species, and up to five other Albatross species are regularly seen and identified.
Duration
Summer 6-6.5 hours Winter 5-5.5 hours
Availability
All year (except - Not available 25 and 31 December)
Requirements
Fitness
Walking is required to access the private conservation area where Hookers Sea lions, a New Zealand Fur seal breeding colony and Yellow eyed Penguins are located. The walk requires basic fitness as the terrain is hilly farm land and sandy beaches.Generally the two separate return sectors (down & up) each require approximately 15 minutes walking time.
Hill walk from beach (line depicts gradient)

Clothing
All tour options are an outdoor activity in a land where maritime weather prevails, the weather can change very quickly on the Southern coast at any time of the year. Always take warm and waterproof clothes.
Footwear
Walking shoes or boots with heavy tread are recommended and necessary if conditions are wet or muddy.
Food and Medicines
Although food and drink is available through a small store in Portobello township during the Peninsula Encounters tour, we recommend that participants bring their own snack and drink. Personal medicines etc. should be carried if required on all tours. Any medical condition which could potentially be a problem should be conveyed to the guide at the commencement of a tour.
We provide
Transport pickups from accommodation or Dunedin visitor centre, guiding and binoculars
Child policy
As this tour duration is approximately six hours, the tour does not suit all children. Children under five years are free of charge and require parent to provide carry pack for walks (tour not suitable for pushchairs/strollers etc)
Cancellation policy
Within 24 hours: NO REFUND (100% charge) or rebooking at no extra cost if availability permits.
Timetable
Peninsula Encounters tour departure times vary throughout the year (from 12:45pm mid winter to 3.30pm mid-summer) to coincide with changing animal activity and daylight hours. Departure times can be confirmed when making reservations. Participants will be collected from, and returned to any City or Peninsula accommodation, the Dunedin Visitor centre (26 Princes street) or arranged points on route. Tour duration is 5.5 - 6.5 hours depending on animal behaviours and season.
NOTE: Total wildlife tour (ETT) duration 8.5 hours with pickup time 1.20pm New Zealand Daylight time
Season
Pickup Times
From
Until
Dunedin City
Portobello
15 November
14 February
3.30pm
4.15pm
15 February
first Saturday in April
3pm
3.45pm
( DST - NZ daylight saving time ends on first Saturday in April )
first Sunday in April
30 April
1.30pm
2.15pm
1 May
31 August
1pm
1.45pm
1 September
Last Saturday in September
1.30pm
2.15pm
( DST - NZ daylight saving time begins on last Sunday in September )
Last Sunday in September
14 November
3pm
3.45pm
NOTE: Pickups are usually from your accommodation or the Dunedin Visitor Centre (22 Princes street). Pickups can take up to 15 minutes from the pickup time shown above
From
NZ$97
WE DISCOUNT
-students
-backpackers
-groups
Discount this Fare*

Peninsula Encounters brochure(PDF) 556 KB