Join an experienced english speaking local guide on a private 'Wildlife packed' tour through Sabah in northern Borneo.
Enquire to register your interest or request a quote  - (individuals or groups up to ten persons)
Sabah province is known as "the land below the wind" and is a tropical paradise of wild and natural beauty containing some of the most diverse wildlife in some of the most outstanding rainforest on this planet. After flying into Kina Kotabalu the capital of Sabah our odyssey begins.
You will see the Orang Utan rehabilitation centre at Sepilok and visit Turtle Island early in the trip and during the following days visit the Kinabatangan river, Tabin wildlife reserve and the Danum valley. It is in these beautiful places where we encounter many primate species including the threatened Orang Utan (the proverbial wild man of Borneo) and another threatened primate, the Proboscis monkey. Other primates in these area's are Langgurs (leaf monkeys), Gibbons, the cheeky Macaque's and the nocturnal species slow Loris and Tarsiers.
You guide intends seeing as much wildlife as possible, and promise the tour will be fun, with the cultural 'plus' of meeting the friendly peoples of Borneo during our travels. You will have an opportunity to see rare animals such as Pigmy elephants, clouded leopard, snakes, Asian Rhinoceros and some weird and wonderful birds and insects. The lowland dipterocarp forests of the Danum Valley and the Tabin reserve area provide an unique opportunity to observe birds such as the Great Argus Pheasant, several species of hornbill, including the largest and most impressive, the Rhinoceros hornbill and a variety of lizards, insects and snakes.
At dusk search for the strange nocturnal frogmouths, one of the worlds least known birds and the large, more common Buffy fish owls. Amongst the wide range of forest mammals here, you will hope to see a good selection of primates, including Bornean Gibbon, and Orang-utan. Evening trips by vehicle may provide glimpses of larger game, such as Elephant, Banteng and, perhaps, even Clouded Leopard or Flat-headed Cat! Larger forest mammals are never easy to see, but we are sure to see such smaller mammals as the nomadic Bearded Pig, Yellow Muntjac and Red Giant Flying Squirrel.
At the Tabin reserve is an interesting mud volcano which attracts wildlife because of its high salt content. It is like a giant salt lick. Borneo is a bird watchers paradise containing 42 indigenous families representing 220 species. Its other indigenous wildlife and plants also share this uniqueness.
Tour Guide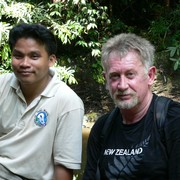 Any trip to Sabah is wonderful. You will see a huge number of animals, including six primate species. Giant flying squirrel's are one of the highlights, and you will find we have managed to pack an awful lot of value into the price. 
All tours are conducted by english speaking local experts who are wildlife enthusiasts and extremely knowlgedable.
Comment from previous clients visit to Borneo.
Enquire to register your interest by email.
Description
Indicative Rate pp
Includes

Borneo Adventure

Tour cost $3885 NZD pp based on  (share twin)  plus International airfares

Single supplement add $595 NZD

We can also arrange International airfares if required

All air and land & water transport during our travels
All accommodation (based on twin-share)
Most meals
All guiding and information with local experts
Itinerary
Day 1 - Airport check-in for departure
  (Flight as per your itinerary to Kuala Lumpur)
You will be given the choice of organising your own flights or requesting we arrange on your behalf.
 
Day 2  - Your airport/ Kuala Lumpur / Sandakan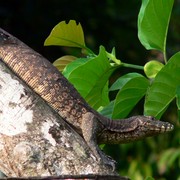 Overnight at Sepilok jungle resort
Usually your connecting flight to Sandakan does not depart until the afternoon of your arrival.  We are met at Sandakan airport by your guide and taken to a restaurant then to your overnight accommodation at the Sepilok jungle resort.
Day 3 - Sandakan / Selingan (Turtle) Island
Breakfast Lunch & Dinner - overnight Turtle Island   
Breakfast at 0815 hrs, pick up from SJR and transfer to CQ Jetty to board a motorised boat for the trip to Selingan Island. Upon arrival at the island, unpack and register. Check into your chalet ( basic facilities with attached bathroom ). Lunch included. Afternoon, you have free leisure time, to swim, snorkel or sun bathe on the sandy beach or explore. Monitor lizards live here. Evening, visit to the Exhibition Hall. After dinner, standby at the Cafeteria to wait for Park Ranger's signal before we proceed in small groups to view turtles laying eggs, then transferring of eggs to the hatchery and the releasing of hatchlings to the sea. We stay overnight at Selingan Island Chalet.
Note: Photographing of turtles requires a fee - no flash allowed. Snorkelling gear is available for hire
Day 4 - Sandakan city tour / Sepilok Orangutans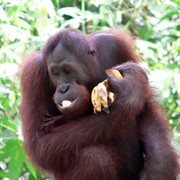 Breakfast turtle island
After breakfast, depart island by 0700 hrs and return to mainland, continue with a sight seeing tour of Sandakan Nature City. Visit to the Sandakan Memorial Park, Buddhist Temple, St. Michael's Church, New central Market at Harbour Square and Agnes Keith Museum. Lunch at English Tea House before afternoon feeding at Sepilok Orang Utan Rehabilitation Centre. Afternoon 1730hrs, continue with a guided walk to Rainforest Discovery Centre to see flora and fauna, walk on a suspension bridge , the only canopy walk in Sandakan. Standing 28m above the forest floor is truly amazing. Dinner and night stay at Sepilok Jungle resort.
Day 5 - Sepilok jungle resort / Kinabatangan river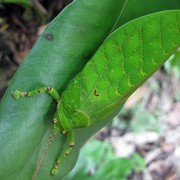 Breakfast Lunch & Dinner - Overnight Sepilok Jungle Resort)
After breakfast vist the Sepilok Orangutan rehabilitation centre to pay your second visit, this time for the Orangutan morning feeding. After lunch, drive overland to Bilit on the Kinabatangan River (2hrs land journey) to arrive around 1500hrs, check into your accommodation and join our hosts for afternoon tea break with local bites. 1600hrs, depart for a boat cruise along the Kinabatangan River to see proboscis monkeys, birds & other wildlife. Overnight at Bilit Adventure Lodge. ( Standard Air-Cond Attached Bathroom)
Note: Night walk can be arranged, pay locally @ RM10p/px/hrs
Tree planting also can be arranged, pay locally @ RM10p/tree
Day 6 - Kinabatangan River / Ox-Bow Lakes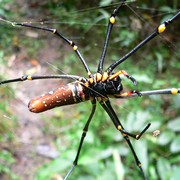 Breakfast Lunch & Dinner - overnight Bilit adventure lodge)
Today begins with an early morning cruise, 6am, to view wildlife activity by boat along the river. Expect to see lots of primate species, maybe elephants or crocodiles and many species of birds. We return to BAL for breakfast then have free time until around 10.30am. Use small boats to travel near Danau Bilit (Ox-Bow Lakes) and walk through the jungle to view forest wildlife through the riverine forest. A simple picnic lunch is served at the lake and we return to BAL through the jungle . Free time until evening when we join the boats for another river wildlife spotting excursion. During your evening meal watch the small bats swooping past the lights to catch insects. Try your skill at photographing these guys.
Day 7 - Kinabatangan River / Tabin Wildlife Reserve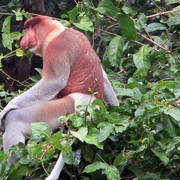 Breakfast Lunch & Dinner - overnight Tabin jungle lodge)
After breakfast, depart Bilit by boat to join minibus for your overland journey to Lahad Datu via Gomantong Cave to explore the largest bird's nest cave & limestone cave system in Sabah. From Lahad Datu to Tabin Wildlife reserve is over a rough gravel road. The journey takes about 3 hours. On arrival, register, unpack and rest. After lunch we visit the Lipad mud volcano located near to the Tabin base. After trekking through the jungle for twenty minutes we arrive at the elevated bare area of the mud volcano known to be frequented by deer, wild boars, elephants and birds. We look out for wildlife and identify the footprints of animals in the vicinity . The adventurous few can experiment with the effect of the volcanic mud said to be responsible for fine complexion. Dinner is followed by a night tour by vehicle looking at nocturnal wildlife and birds.This is one of the best oportunities to see the cats of Borneo.
Day 8 - Tabin Wildlife Reserve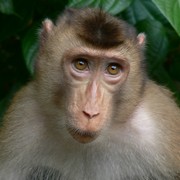 Breakfast Lunch & Dinner - overnight Tabin jungle lodge)
Today, trek through the lush green Bornean jungle known for its rich diversity of plants and animal species to visit Lipad's Waterfall. Take a dip in the natural pool and enjoy the refreshing cool water coming down from the waterfall. Alternatively explore the surrounding vegetation or just relax. At dusk, we go bird watching within the reserve. After dinner, night safari to observe nocturnal wildlife and birds.  TABIN INFORMATION - Tabin Wildlife Reserve is an enormous dipterocarp rainforest landscape in the eastern part of Sabah, with a most diverse range of flora and fauna. Tabin was declared a wildlife reserve because of the large numbers of animal species inhabiting its forest, including several which are highly endangered. With a protected forest area of 120,500 hectares, the Tabin Wildlife Reserve plays an important role as a dedicated ground for the breeding of endangered wildlife and protected mammals in Sabah. Tabin has several intriguing mud volcanoes that provide mineral salts for the wild animals. The three largest land mammals of Sabah: Borneo Pygmy Elephant, Sumatran Rhino and Tembadau are found within Tabin.
Day 9 - Tabin Wildlife Reserve / Lahad Datu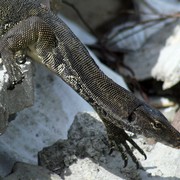 Breakfast - overnight Silam Dynasty hotel)

After breakfast, free time - stroll to the nearby rock pool or river side. Choose to take a dip in the water or simply immerse yourself in nature. After lunch we depart Tabin Wildlife Reserve on minibus for our overland journey to Lahad Datu. Free afternoon to explore this coastal town.   Lahad Datu lies in the Tawau Division on the East coast of Sabah.The interior mountain ranges stand on its west and the Celebes Sea borders it from the east.The main livelihoods of Lahad Datu include timber, palm oil, rubber and cocoa.    A settlement is believed to have existed here in the 15th century, as excavations have unearthed Ming dynasty Chinese ceramics. Just east of Lah ad Datu, is the village of Tunku, a notorious base for Lanun pirates and slave traders in the 19th century.
Day 10 - Lahad Datu / Danum valley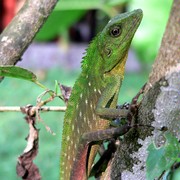 Breakfast Lunch & Dinner - overnight Borneo rainforest lodge)
8:00am off to the Borneo Rainforest Office in Lahad Datu for registration & briefing. At 9:30am Depart for the 2½ hour interesting and bumpy overland journey through the Danum Valley, 438 sq. km of undisturbed lowland rainforest where over 275 species of birds have been recorded. At approx 12pm we arrive at the Borneo rainforest Lodge. Our exotic "Welcome Drink" will be served while the warm and friendly resort staff brief us on the lodge facilities and exciting activities we will be joining during our stay. After lunch an introduction to the forest is provided through the "Nature Trail" and the "Canopy Walkway" to view unique wildlife. After dinner, a briefing and slide show are presented followed by a night drive in an open-air jeep in search of nocturnal animals (weather permitting).
Day 11 Danum valley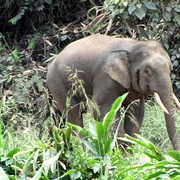 23 June : Breakfast Lunch & Dinner - overnight Borneo rainforest lodge)
At 6:00am take an early morning jungle walk to the "Canopy Walkway" followed by breakfast and from 9.30am a range of guided jungle activities ; These include a trek to the Kadazandusun burial site - "Coffin Cliff" then further trekking to the "View Point" for a bird's eye view of the area. From here we descend to the "Jacuzzi Pool" for a refreshing dip. (Don't forget to bring along your swimming gear!) Back for lunch at the Lodge. Afternoon is free time or water tubing on the Danum River (optional activity). 7:00pm Dinner then at 8:30pm a Night Walk in search of nocturnal wildlife (weather permitting)
Day 12 Danum valley / Lahad Datu / Kota Kinabalu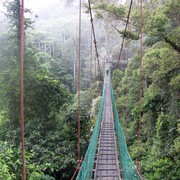 Breakfast Lunch)
Following a 7:00am Breakfast begin a trek to the Hornbill Trail to view some of the really unusual hornbill species which exist in Borneo. After a noon Lunch we check out at 1:30pm and depart on our 2.5 hour return journey to Lahad Datu. Late afternoon flight to Kota Kinabalu. Stay overnight at a Hotel in Kota Kinabalu.
ADD TO YOUR ITINERARY by staying a day or two in Kota Kinabalu. Maybe visit the night market for dinner. It only takes a glimpse of present-day Kota Kinabalu, or KK as the locals call it, to realise this is a fairly new city. The only colonial remnants of an almost century-long British control are the old post office building and the Atkinson Clock Tower. Indeed, KK received its city status only recently on 2 February 2000, but its history dates more than a century back to the days when the British North Borneo Chartered Company discovered it by accident, after a fire burnt down its former administration centre on Pulau Gaya island. KK was then a small fishing village, situated on a narrow strip of land with hills on one side and sea on the other. It was named Api-Api, loosely translated as "Fire-Fire," to denote the blaze that destroyed the former administration centre. It was later renamed "Jesselton," after Sir Charles Jessel, then Deputy Manager of the Chartered Company. You will enjoy exploring the city and its markets and finding those interesting cultural treasures
END TOUR     Kota Kinabalu / Kuala Lumpur / Home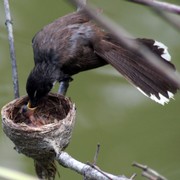 HOME
Enquire to register your interest by email.
Luggage policy 20kg maximum
Cabin baggage policy
Tabin wildlife area
Rainforest lodge
Kinabatangan river