From the floating reed islands of the Uros, soaring condors of Colca Canyon, the ancient Inca trail, to the depths of the enriched and unexplored waters of Galapagos, our carefully planned active tour is a must for all lovers of outdoor adventure and wildlife. Whether you are watching or diving with harmless sharks, playful sea lions, giant manta rays, or just enjoying the company of the Giant Galapagos Tortoise our 24 day Adventure tour is guaranteed to leave you with memories that will last a lifetime.
We operate this tour in conjunction with a fellow Kiwi based in Ecuador to provide a great adventure that suits the tastes of Kiwis. With his assistance we have created this adventure at a very competitive price. Galapagos is one of life's "must do's" if you have an interest (or obsession) with wildlife, we would welcome you joining us. The tour begins in Lima Peru and finishes in Quito Ecuador. We can arrange altered airline departure dates if you wish to linger longer in South America once our tour is complete.
If you are a diver or surfer ask about opportunities to surf what are considered to be some of the best waves in Latin America. San Cristóbal Island especially and Isabela Island offer world-class surf throughout the year. There will also be oportunities to dive at Leon Dormido - Kicker Rock where tropical fish, Galapagos Shark, Batfish, Occasional Scalloped Hammerhead Shark, Eagle and Golden Rays, Moray eels, Green sea turtles, stingrays, barracuda, triggerfish, boxfish, frogfish, and plenty more are seen !
ITINERARY 
Day 1    
LIMA, ARRIVAL DAY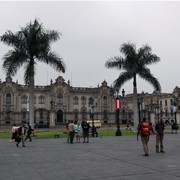 (Included : Lunch & Dinner - Overnight Lima hotel )
LIMA, ARRIVAL DAY - You are free to arrive and check in at any time..
DAYS 2 & 3 AREQUIPA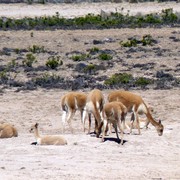 (Included : Breakfast & Dinner - Overnight AREQUIPA )

AREQUIPA – a short flight to Arequipa, Peru's most beautiful city exhibiting a delightful colonial past. Situated under the volcano "El Misti", stroll around the city enjoying the local museums, churches, convent and sample some of the many superb regional dishes. (2B, 1D).
DAYS 4 to 6 COLCA CANYON, PUNO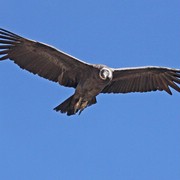 COLCA CANYON, home to the famous Andean Condor. View these birds close up, as they soar above us while  on the edge of the canyon. Visit local villages, soak in thermal baths and sample the life, music and spectacular scenery. We continue through to the city of Puno on Day 6. (3B)
DAYS 7 & 8 PUNO, LAKE TITICACA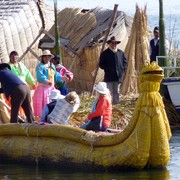 LAKE TITICACA - From the shores of magnificent "Lake Titicaca", we board a boat bound for the floating islands of Uros and the islands of Amantani and Taquile, along the way learning of the legends and the ways of the lake and its people where life has remained relatively unchanged over the centuries. An overnight home stay will allow us to live with a family on the islands. (2B, 1L, 1D)
DAY 9 & 10 CUSCO
CUSCO - An early morning bus takes us to the imperial city of the Incas, Cusco. Rich in history and surrounded by ancient Inca sites, churches and museums and markets, there is plenty for all to do and see. Your will have a free day to enjoy the city and prepare for the Inca trail. (B)
DAYS 11 to 14 INCA TRAIL
INCA TRAIL -
Our day begins early, with a bus through the sacred Valley of the Incas to our start point on the trail. We head out with a local guide, cook and porters to ensure an enjoyable hike through spectacular scenery, taking in Inca sites on the way. Ending with an early morning arrival to the sun gate of Machu Picchu and a guided tour of this incredible Inca site. We have most of the day to enjoy this special place, descending later in the afternoon to catch a train back to Cusco. (4B,4L,4D)
Special Note :
Due to new Inca Trail regulations and the restriction of the number of hikers allowed to be on the trail at any one time, an alternative Inca Trail may have to be used. These hikes are as spectacular as the Inca Trail with far, far less people, ending below the site of Machu Picchu. Sunrise can still be seen at Machu Picchu, with an early rise on Day 14, and a hike up to the entrance of the site.
DAY 15 CUSCO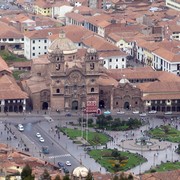 CUSCO - Free time to explore this beautiful city with great shopping, or just relax in one of the many cafes and soak up the special atmosphere, which makes Cusco truely unique place. (B)
DAY 16 QUITO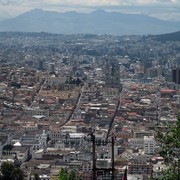 QUITO - An early morning flight takes us from Cusco via Lima to Quito. Welcome to one of the highest capital cities in the world, Quito .You are free arrive anytime you wish and take in some of the many sites of Quito. (D)
DAY 17 SAN CRISTOBAL ISLAND BIKE RIDE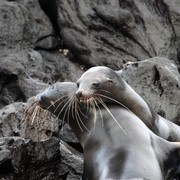 SAN CRISTOBAL The trip begins with a morning transfer to San Cristobal Island, Galapagos. We make our way to the top of San Cristobal for panoramic views out over the Pacific towards Santa Cruz, Floreana and Santa Fe. After sampling some of the local cuisine we'll head up into the highlands for a scenic downhill bike ride.  Starting at a panoramic viewpoint called La Soledad, we'll bike through the tiny town of El Progreso and five different vegetation zones until we reach a beach called La Loberia. There we'll be able to watch sea lions sun bathing, playing and vying for our attention. (B,L,D) 
DAY 18 KICKER ROCK SNOKELLING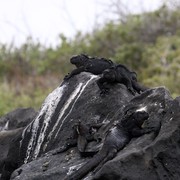 Start with a short boat ride to Kicker Rock, observing the abundant marine life that Galapagos is renowned for. On the way, stop off at Isla de Lobos to observe nesting Frigate birds and Blue Footed Boobies, and swim/snorkel with playful young Sea lions. Kicker Rock, the remains of an underwater volcano rising vertically 150m out of the sea is a truly impressive sight! Here we can dive and snorkel keeping an eye out below for Sea Turtles, Manta Rays and maybe the odd harmless Galapagos shark. Then we relax at one of the most beautiful beaches in the islands , feel free to spend your time swimming in the turquoise water or snapping photos of Kicker Rock in the distance. Late in the afternoon we visit the Interpretation Center, to learn about the history and mystery of the archipelago from its discovery and what makes it so special, to Charles Darwin's visit and the present day efforts protecting this amazing World Heritage site. (B,L) OPTIONAL DIVING, PLEASE ENQUIRE
DAY 19 FLOREANA AND ISABELA ISLANDS
Depart San Cristobal Island to Floreana Island. Keep an eye out for dolphins and the waved albatross along the way. We'll have a pre-lunch snorkel before going ashore to a black sand beach at the home of the Witmer's, one of the islands first settlers. After lunch, take a siesta while listening to the waves or walk along the coast in search of sunbathing iguanas. This afternoon we'll bus up to the highlands of Floreana to visit the Pirate and Whaler Caves from long ago. After experiencing some of the best snorkeling in the islands, we depart Floreana to Isabela. (B,L,D)
DAY 20 ISABELA TINTORERAS WALK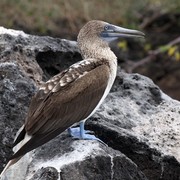 A short walk takes us to a nearby wetland that is home to pink flamingos and pintail ducks. After lunch, we'll board small pangas to explore a protected bay and search for the Galapagos Penguin, then hop out for a short walk at Tintoreras or Shark Alley, an isolated islet and popular iguana nesting site that's home to hundreds of marine iguanas. Next, we'll test the waters for a snorkel in a calm inlet that's home to a variety of colorful fish and winding underground lava tubes. This area is often frequented by green sea turtles that like to rest on the calm, sandy bottom. (B,L,D)
DAY 21 SIERRA NEGRA VOLCANO HIKE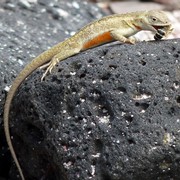 Enjoy a full day hike up Sierra Negra Volcano, one of the most active volcanoes in Galapagos, and with the second largest crater in the world. As we hike to the perimeter of the caldera, we'll be on the look out for bird species found only in the highlands like the bright red Vermillion Flycatcher and the elusive short-eared owl. Here you can experience a bird's eye view of this magical landscape. We'll continue on to traverse the vast lava fields of Volcan Chico in route for a lookout that boasts breathtaking views reaching to the north of Isabela. That evening we can kick back at the bar on the beach and enjoy a nice cold beer or have a relaxing swim before dinner. (B,L)
DAY 22 ISABELA WETLANDS & GIANT TORTOISE BREEDING CENTER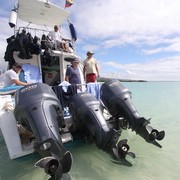 Visit the Breeding Center of the Giant Tortoise, the largest in Galapagos and later, make our way the wall of tears, built by convicts many years ago. Along the way we'll visit Pink flamingos,  one of the many natural pools, short walking trails, beaches and mangrove swamps. The afternoon is yours to explore the town, sit with the birds and iguanas or head toward your favorite beach bar. (B,L)
DAY 23 SANTA CRUZ, MEET LONESOME GEORGE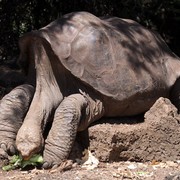 Head for the Highlands to explore an underground lava tunnel and visit Primicias Ranch. For the first time we'll be able to see Giant Tortoises in their natural habitat cooling off in a watering hole or munching away. Then visit the Charles Darwin Research Foundation. We'll learn about the foundations successes in repopulating the islands with the once endangered land iguana and several species of Giant Tortoise. This afternoon we'll take a short walk that ends in white sand and luscious waves. Tortuga bay is gorgeous beach accessible only by foot and laden with choices. Evening group dinner to farewell the enchanted islands. (B,L,D)
DAY 24 SANTA CRUZ, QUITO

Bidding farewell to the Enchanted Islands today, you'll have a free morning with a variety of optional activities on offer or just kick back and enjoy some last minute souvenir shopping! Depart Santa Cruz Island and return to Quito. Swap photos then celebrate at our final dinner together. (B,L,D)
DAY 25 DEPARTURE DAY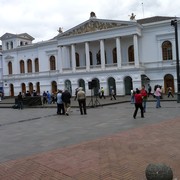 Today is the last day of the tour and we'll be sure to get you to the airport if you have a flight out before noon. If you just can't bear to leave, our representative will be able to advise you and help with some of the many tours available in and around Quito.(B)
Is this trip for you ?
An active itinerary with an in depth look at Peru's diverse cultures and geography. You will travel on a variety of transport from boats to motorized canoes, local buses and private minivans. The buses are large comfortable coaches with reclining seats. Accommodation is simple but comfortable with en-suite rooms. Hotels are chosen for their safety, location, ambiance and friendly staff. We include three nights camping while on the Inca Trail and there may be one multi share night (triple or quad), at the homestay on Lake Tititcaca.
There is moderate walking involved throughout the tour, though at altitude it can be a little tougher than usual. Hence we grade this trip as "active". The Inca Trail trek of 4 days is fairly challenging due to the altitude and a moderate to good level of fitness is required for you to get the maximum enjoyment from this truely stunning trek. Typically each day on the trail involves 6-8hours of walking at altitudes up to 4200m (13776ft).
In the Galapagos Islands we spend our nights on land, going out by boat during the day. This makes it the perfect trip for those concerned about sea sickness, as we return to comfortable hotels every evening. If you are a certified diver and would like to dive, please notify us on your booking form. Though even if you don't dive, you will still enjoy amazing snorkeling and close encounters with wildlife. All our included activities here are designed so that everyone can easily take part without prior experience.
Paying locally
Most of our adventure tours involve a local payment. Paying locally allows us to keep the overall cost of our tours competitive and pass the savings on to you. These funds are put towards local expenses. In some developing countries the transferring of funds is at times problematic so this is a way to help us serve you, whilst saving you money. Payment is to be made to your leader upon arrival in cash.
All prices are approximates and subject to currency fluctuations until final payment has been made.
Surfing & Diving
Ask about your opportunity to surf what are considered to be some of the best waves to be found in Latin America. San Cristóbal Island especially and Isabela Island offer world-class surf throughout the year.
WHERE WE DIVE
Leon Dormido - Kicker Rock. (Intermediate)
Tropical fish, Galapagos Shark, Batfish, Occasional Scalloped Hammerhead Shark, Eagle and Golden Rays, Moray eels, Green sea turtles, stingrays, barracuda, triggerfish, boxfish, frogfish, and plenty more!
INCLUDED
WHAT IS INCLUDED IN THE TOUR PRICE
All tours Include:
•20 nights accommodation in double or twin share rooms, 3 nights camping
•Meals daily as specified in tour (Breakfast, Lunch and Dinner)
•Airport transfers to and from accommodation in Peru, Galapagos and Quito
•Airfare Lima-Arequipa//Cusco-Quito-Galapagos-Quito
•Full pre departure briefings and logistical support in Lima and Quito
•All land and sea transport
•Entry and guided visit to all Inca sites on the itinerary
•3nt/4day Inca Trail (or similar if booked out) with authorized guide
•Sea kayaks *Galapagos only
•Mountain bikes *Galapagos only
•Snorkelling equipment *Galapagos only
•Naturalist guides authorized by national park of Galapagos.
NOT INCLUDED
•Galapagos National Park entrance fee $110USD, only payable in cash, upon arrival
•Alcoholic / Soft drinks /Gratuities
•meals not specified in itinerary
•Anything not specified in the package
•Optional diving (please enquire for diving package)