Wednesday, 01 February 2017
Hi Shaun,
Just wanted to let you know that we had a wonderful day with Tony. He was knowledgeable, accommodating, and fun to be with. We loved seeing the baby penguins, shorebirds, and the albatross. What a beautiful area.  Thank you so much for your help and please thank Tony again for us.
Best wishes,  Mary
Wednesday, 12 October 2016
Hola Shaun !!!
Maria was amazing ! Shaun and David were great too, I really liked that they know about the animals and places we visited and to see and hear their passion about what they do.
I would like to commend you for your conservation efforts as more and more animals need for us to learn about them and understand why it is so important for us to protect and respect their habitats.
Thank you very much for a wonderful day !
 Connie from Mexicali, Mexico
Thursday, 23 June 2016
Hello,
 My partner Dean and I took a tour with your company, this Friday just gone with your guide Shaun.   I would just like to take this chance to let you know that the experience that we had was amazing. Sean was brilliant and extremely informative,  we had the best time.  For me it was equal first with our walk on the the top of a Fox a Glacier as the highlight of our trip to New Zealand.
I would also like to thank Shaun for his kindness and care when I felt unwell on the return trip. He is definitely a credit to your company.
Thank you again for the chance to see and walk among the awesome wildlife.
Regards
Lesley  (Australia)
Friday, 29 April 2016
Hi Andrew,
Firstly - thank you so much for the great wildlife tour we had with Elm Tours earlier in the month! Both Sean and Claudia were fantastic guides who did a wonderful job of sharing their passion for the Otago Peninsula with us. For most of our group, it was their first time seeing a penguin in the wild and was a highlight of their whole South Island trip! Please do pass along our thanks again when you see them.
Kind regards,   Jane
Monday, 18 April 2016
Hi there,
I had an amazing time with Donna on the Wildlife tour today. We were really lucky to see some rare phenomena, e.g. a New Zealand juvenile Falcon who doesn't seem to appear very often in that area.  Donna asked me to send you a picture of that Falcon since no one would believe her :-) please find the pictures in the attachments.
 Thank you Donna for such a lovely day. I really enjoyed it.
All the best,  Vera 
Saturday, 16 April 2016
Hi Shaun -- just a brief note to say what a lovely time my friend and I had with Elm recently.  It was a lovely experience.  I met Brian & Leslie Templeton (whom I assume are related!) on the Sub-Antarctic trip this past January.   While it is true there is 'more' wildlife on the Sub-Antarctic, the whole Elm experience was amazing and it was great to see albatross chicks, and very close experiences with the yellow-eyed penguins.  Plus all a beautiful setting too and our guides were great fun.   Please send my greetings to them
James Stoudt
Sunday, 14 February 2016
Jane Cox (Letter)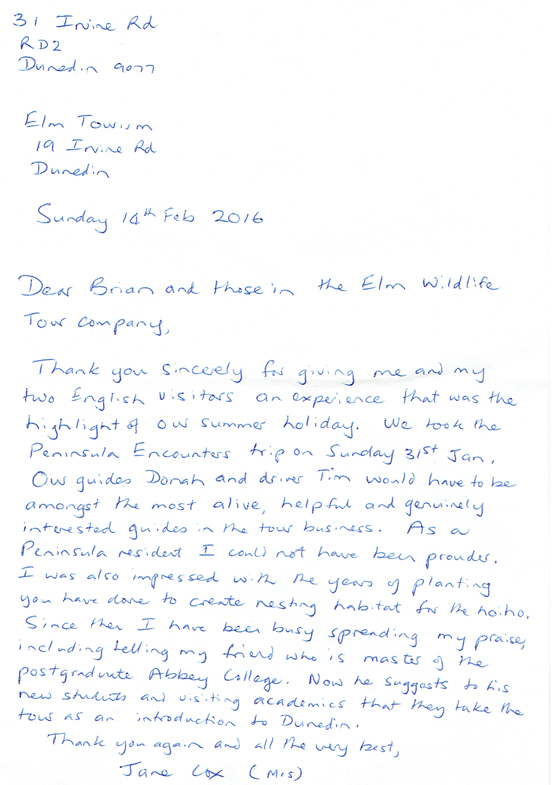 Saturday, 19 September 2015
Hi there,
My dad and I went on one of the Encounter Tours on Tuesday that was guided by Shaun and I just wanted to pass along our thanks to him again for being an awesome tour guide for the afternoon! We both could tell that he really enjoys doing the tours and that makes the experience that much better for the people being guided. He was incredibly informative, super friendly and kept things light and positive. I think he deserves a pat on the back!
Cheers,
Andria Mason
Monday, 30 March 2015
Hi,
We just wanted to e mail to thank you for the great time we had on your trip on Thursday 19th March to see the albatrosses, yellow eyed penguins, seals and sea lions. We thought the trip was one of the big highlights of our NZ holiday as we found it not only very informative but also very rewarding seeing the marine life up so close. The scenery and good weather were real bonuses too.
Please thank Donna in particular who led our group as she was an excellent guide and her enthusiasm and passionate interest was very infectious. She is also a great driver too! Also pass on our thanks to Rebecca who gave us lots of good information.
Once again many thanks.
Peter & Barbara ( now sadly back in the UK!!)
Tuesday, 11 November 2014
Shaun,
just a quick note to thank you for the tour - it was amazing and to let you know that our tour guide - John was spectacular. I was looking for the right word to describe just how wonderful our 8 hour with John was and I think spectacular sums it up nicely. His knowledge, passion for the area and the wildlife, warmth towards us, and ability to communicate lots of information was simply unsurpassed. Please thank him again for us.
Mark PS: I got some amazing photos!!!