Thursday, 02 May 2013
Hi Elm,
Thanks for a great tour on Friday 26 April. We took the Peninsula Encounters tour with our 12 year old daughter and had a great time. Our tour guide was Tony. We saw all the wildlife that we had hoped to see, including 5 albatrosses flying overhead, and got lots of great photographs and memories. One thing that we thought was very useful was that Tony would give a time estimate between stops, so we would know if to ask for a bathroom break. Thanks for the fantastic experience.
Regards, Petrina and Murray Wu, Wellington
Saturday, 16 March 2013
Hello,

Just wanted you to know how much we enjoyed our 9 February Elm Wildlife tour experience on the Otago Peninsula. The host and hostess were very knowledgeable and passionate about what they do. We took super pictures and learn a great deal about wildlife that we don't see here in Canada and the scenery was stunning. The highlight of our New Zealand experience.
We would highly recommend this to anyone we know travelling to NZ.

Thank you from Janice and Adrien d'Eon.
Sunday, 03 March 2013
Hi John,
Had the tour with you a couple of weeks ago when you drove the 4-wheel dive vehicle for us older tour members and an old dude with a mustache kept asking dumb questions from the front seat.  Mentioned I would send you a few photos if they came out. Emailed nine of these photos with glowing comments about the Elm tour to about 50 family, friends, and colleagues.

Thanks again.
Dan Gartrell
Sunday, 24 February 2013
Greetings from Aus.
On 16th January we did a Cruise Ship Excursion with Donna and had a fabulous time.  You may remember that Brian kindly used my camera to get a close up shot of a yellow eyed penguin chick.  I have to say that I consider that shot to be the best of the whole holiday.
Kind regards,
Joan Colley.
Friday, 22 February 2013
Hello Brian,
Thanks for the wonderful tour for my students and myself yesterday. Ben and Sean did a fantastic job - both the penguins and albatross put on a wonderful show.
I look forward to bringing my students on your tour once again next year.
Regards,
Dr Patrick Chapman
South Puget Sound Community College, Olympia, WA ,USA
Tuesday, 12 February 2013
Hi Andrew;
We had a fantastic time yesterday. Thank you so much for a once in a lifetime experience.
Steven and Amber Hodges
Thursday, 10 January 2013
Brian and Shaun…..
Well we just got back home from our awesome trip to Australia and New Zealand. We all agreed that our tour with you in Dunedin was the best ever !!! We had a most wonderful time and enjoyed Shaun's commentary and ability to find wildlife while driving!! He was one of the best tour guides I have personally ever had and I have been all over this amazing world! Thanks to you Brian for taking the time to show Mike as much wildlife as you could due to his inability to make the steep hills. He really enjoyed your company.
Since I have returned everyone in the office has asked what was the highlight and I tell them it was our tour with you.!!! Again, thanks for a most awesome experience….it is one none of us will ever forget!!
Kindest regards,
Barbara Maher
GO Travel
Longwood, FL , USA
Tuesday, 08 January 2013
Dear Sir,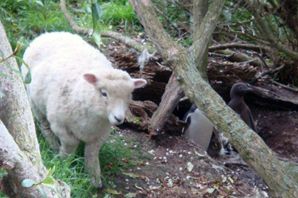 On Friday 21 Dec, 2012 we took a cruise ship exclusive tour with your guide, John, of the Otago Peninsula. While we were watching the yellow-eyed penguins from the viewing area we were photo-bombed by a sheep. I would like to commend your company and your guide, John, on delivering a fabulous tour where we were able to observe albatross, dolphins in the harbour, fur seals, a sea lion and penguins in their natural environments. John went out of his way to personalise the tour as much as possible and allowed our daughter to stare in awe for as long as she wanted at some of her favourite animals. John's knowledge of and passion for your local wildlife was inspiring.
You should also be commended on your efforts to provide a safe haven for these creatures. In your own small way, you are giving these animals extra time on our planet.
Keep up the good work
The Bew Family - Paul, Jodie & Chloe
Australia
Tuesday, 01 January 2013
Hello Brian:

Just wanted you to know how much we enjoyed the tour with John on Dec. 29. It was the highlight of our month long trip to the North and South islands. Your country is absolutely magnificent and the people so warm and gracious.

Thank you again,
Heather Roberton and Marlene Donegan
Canada
Sunday, 23 December 2012
Dear Elm Tours,
Thanks for a wonderful half day experience yesterday with Elm Tours. We both thoroughly enjoyed the knowledge, guiding and experience of Warren to assist us in seeing the wildlife of Otago Peninsula. We thank him for dropping us off on the High Road and your company for making this such a special day. We will share our find of what you offer.
Again sincere thanks
Sally and Mike Cleary - picked up at what we thought was the Vauxhall Yacht Club!!