Tuesday, 17 March 2020
Hi Andrew,
I have to say that I really appreciate the tour and I was really impressed with the knowledge of the guides and the beauty of your peninsula, you guys are doing a great job
I will push the team to sell it more often, after dealing with that coronavirus issue (big impact for us), Anyway, thank you very much,
Regards,
Gregory
Conseiller Voyage DetourNZ
Tuesday, 12 February 2019
Hello Shaun
Thank you so very much for this opportunity – it was fantastic! A real experience and David may have mentioned I visited the Albatross Observatory as well. I was not disappointed as we were able to just see a chick (when Mum moved!), several of the albatross flying and waddling on the ground; plus I was able to film 2 courting birds which was rather special.
David was excellent, both Tony and I felt he really held the group together, great information and gave us good time to visit, learn and watch the Fur Seals, Penguins, numerous swan, herons, Oystercatchers, Ducks etc etc. It was a real privilege to make the Otago Peninsular trip and will encourage us to bring our international family and friends through, over the next few years, as well as enthuse our A&K guests!
Thank you Shaun, Andrew, David and our good driver Warren – you are a great Team, plus other Elm tours we saw en-route. We were very impressed with your business and the conservation work you undertake.
Awesome! Until next time! With Kind Regards
Wendy D'Arcy
Country Manager - New Zealand
Abercrombie & Kent Australia Pty. Ltd
Monday, 02 July 2018
BORNEO JUNE 2018
My Borneo trip was fantastic. The wildlife viewing was out of this world  and I have already been recommending to family,friends and Aussies I have met along the way to book thru Elm Wildlife Tours to experience Borneo. I felt totally safe & the local guides were fantastic.
Melissa
Tuesday, 17 October 2017
We took an Otago Peninsula tour with Claudia on October 7 and just wanted to tell you it was probably the highlight of our recent trip to New Zealand. We particularly want to commend Claudia, who was extremely knowledgable and personable. The day with her was a delight. By the end of the day, we felt as if we had known her for a very long time. We can't speak highly enough of her (plus everything she showed us). Just wanted you to know .......
Scott and Pat James
Sunday, 01 October 2017
BORNEO TOUR
Hi, Brian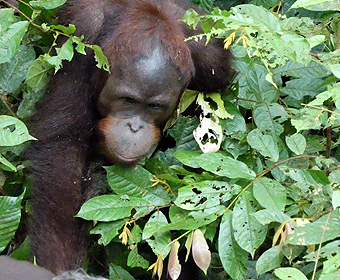 As you are probably aware now from reading the emails, Martin and I had a BRILLIANT trip. Thank you for organising everything at your end; it was a wonderful experience. Seeing the orangutans, mouse deer, leopard cat and other animals in the wild was really something else. Also, it is a shame that you said you think NZers are afraid of going to Borneo because we found the people so warm and friendly, and felt totally safe there. We would not hesitate to recommend it as a wildlife destination to anyone.
Kind regards
Liz & Martin
Saturday, 22 July 2017
Hello Elm Wildlife tours,
We would like to personally thank you for contributing to Ryan's wish to explore New Zealand! He and his family had an incredible time. Attached is a donation letter for your records. Thank you again for all you do to help share the power of a wish!

Michaela James
Office Administrator
Make-A-Wish  Mid-South
Monday, 05 June 2017
Dear Elm Wildlife Tours,
Just a quick note to thank you for the wonderful tour yesterday! Our guide was fantastic and so knowledgable about the wildlife and history of the area.
We were delighted to see the penguins and the sea lions. Oh the sea lions! I had thought about them all morning, as I have never seen them before (only plenty of land lions) - and they didn't disappoint. Lots of snorting and playing, I could have watched them all night !
 It was great that we were not at all rushed, we had plenty of time to enjoy the beautiful surroundings and the wildlife. A very unique, unforgettable tour.
Big THANK YOU,  Clare Groom & Helen Riesen
Tuesday, 16 May 2017
Hi Shaun,
Thanks for always looking after our tours so well! :
The ELM tour was outstanding--even better than last year. I did not think that was possible. Comments from students: "It just keeps coming...", ...."set a really high bar for the rest of the trip"
Kind regards, Brigitte
Program Coordinator
University of Florida New Zealand Sustainability Program 2017
Thursday, 16 March 2017
Hi Andrew,
Thought I would write a quick note to say how much we appreciated the tour we did yesterday. Sean was superb; welcoming, knowledgeable, a good driver. The wildlife we saw was great and though seeing animals in the wild of course means that it is hard to guarantee what you will see you organised this so well that we saw plenty of interest. We appreciate the efforts the company is making conserving yellow eyed penguin habitat.
All the best   Dr Ben Gray
Senior Lecturer
Department of Primary Health Care & General Practice
Monday, 06 February 2017
Fabulous tour yesterday with Shaun (McConkey). Top notch. Should be on every must-do list for NZ.  We agreed to exchange some information, and the easiest way was his card. Would you please see that he gets this email and therefore, my email address.    Elm tours are on my annual to do list.
Best,   David Ankeny