Monday, 05 November 2012
We had a super trip last week and would like to thank Shaun especially for a wonderful experience.
Regards, John and Janet Chapman
Thursday, 11 October 2012
Peninsula encounters
We are writing to let you know how much we enjoyed our tour Monday Oct 8. Donna was an excellent guide, very knowledgable, great communication skills and a fine sense of humor. This was one of the best wildlife tours we have been on.
Thanks again,
Andy and Linda Zimet
Montana, USA
Wednesday, 06 June 2012
Brian,
I wanted to thank you and the two Shauns very much for the tour on Sunday. It really was a first class experience. You were very generous to my family. And I think Mother Nature really played her part – albatross, penguins, friendly sea lions and a rather handsome kingfisher too.
Kind regards, Daniel Shields YHA
Tuesday, 24 April 2012
Greetings,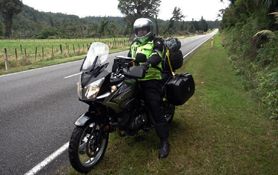 My wife and I enjoyed your tour on March 14 during our stay in NZ. First, let me say we LOVED the tour and it was very much worth while. The guides were excellent - friendly and knowledgeable. The properties of the tour were outstanding and when we visit NZ again, we will be returning. Your company is receiving high praise from us on our on-line ride report of our vacation at http://www.advrider.com/. Thank you again for your time and your tour. It has given my wife and I memories we will cherish the rest of our lives and we look forward to an eventual return.
Sincerely, Elburn L. Templeton USA
Thursday, 05 April 2012
Just wanted to thank you – now that we have returned home to France – on a wonderful Peninsula Wildlife Tour on Monday 27th February with Shaun. We couldn't have asked for a more knowledgeable and enthusiastic guide and it was a highlight of our trip to New Zealand. Keep up the good work there!
Kind regards, Eileen and Michael Fawcett
Sunday, 01 April 2012
Hi Elm
Wonderful tour. Tony is great!! best we had the entire cruise trip, thank you.
Rosalie USA
Sunday, 01 April 2012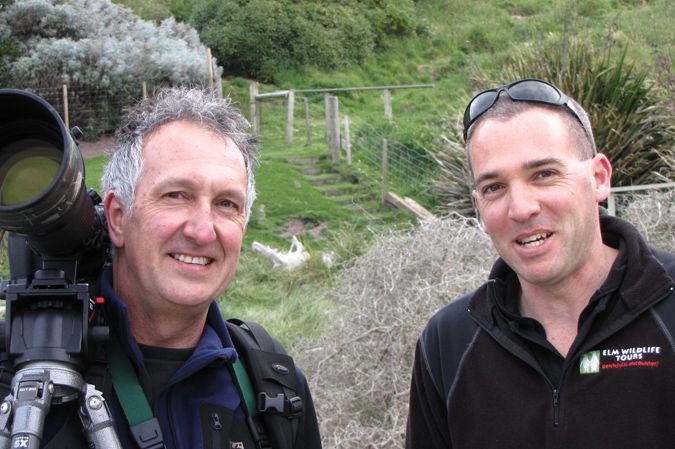 New Zealand's 'Small Five' safari November 2011
When he was in New Zealand, the zoologist Mark Carwardine had to fight off an amorous parrot. Undaunted, he returned in search of the country's most eccentric species – the 'Small Five' and spent some time with the wildlife within our reserve viewing yellow-eyed penguins and New Zealand Sea lions.

Link to the Telegraph article
Friday, 30 March 2012
Hi!

We came back in France and we are very enjoyed by our new zealand trip.
we have seen the seals and albatros with Jon thanks for this nice journey. (13/03/2012)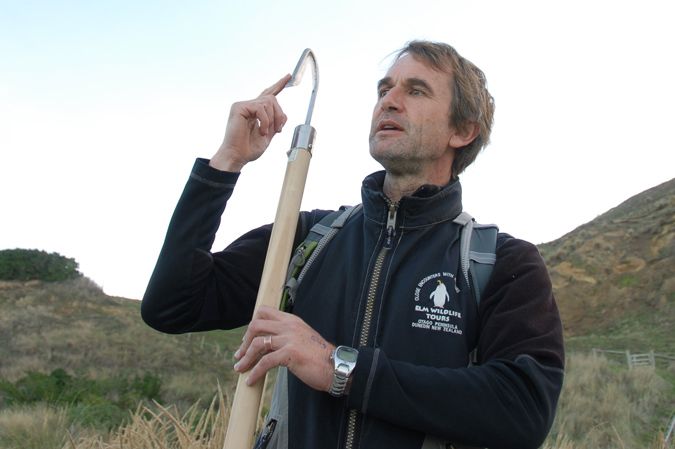 I join two pictures!! be careful with him....... he's armed!!

with cordiality
Jean marie CHARDONNET
France
Monday, 27 February 2012
Dear Brian,
We would like to thank you for so beautiful and interesting tour! The day of this tour was a best day of our cruise. See, please, attached several photos.
Best regard
Dr. Shlomo N. Bam & Tania Bam
Migdal Haemek, Israel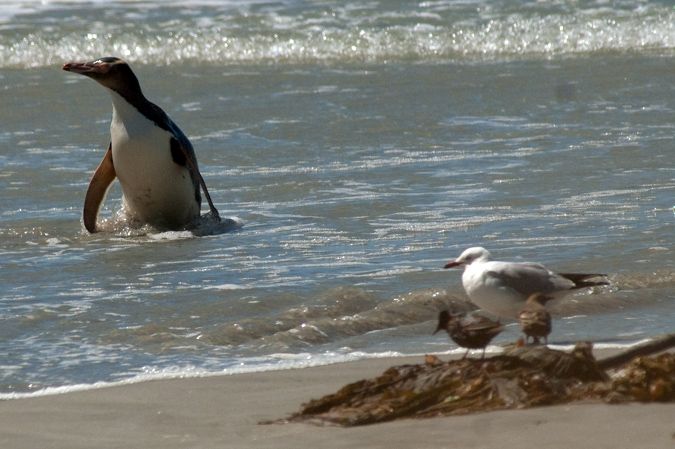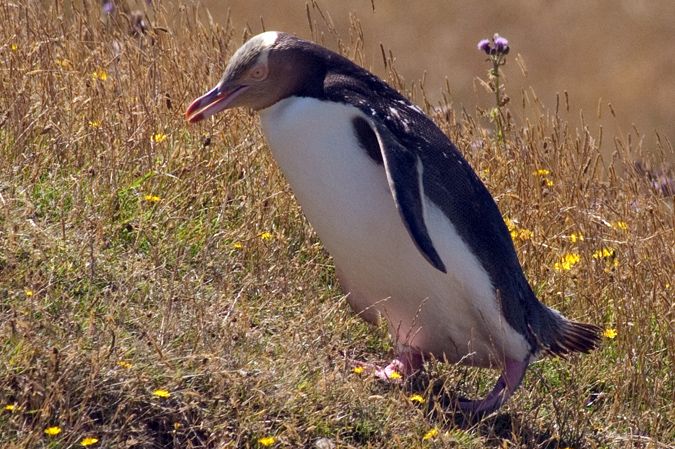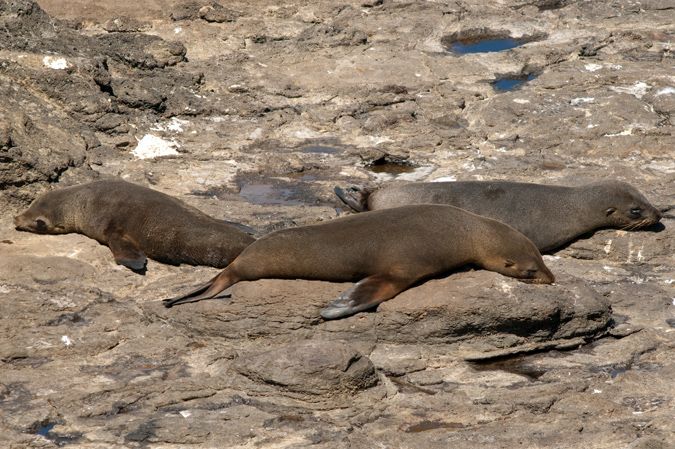 Sunday, 12 February 2012
Hi,
Just wanted to express my gratitude for an excellent tour yesterday. You are right it is a tour for the wildlife obsessed and my obsessions were fully satisfied on the trip. Your guide was excellent and the beach with the Yellow Eyed Penguins and Hookers Sealions was a very special place. Having seen many fur seals, in many places during my three months in New Zealand it was fabulous to see so many pups playing around on the rocks and in the pools on the adjacent shoreline. The Monarch Cruise and the Albatross Centre both delivered worthwhile experiences but your penguin conservation area was a stunning highlight.
Thanks, Robert Burton