Sunday, 12 February 2012
Hi,
Just wanted to express my gratitude for an excellent tour yesterday. You are right it is a tour for the wildlife obsessed and my obsessions were fully satisfied on the trip. Your guide was excellent and the beach with the Yellow Eyed Penguins and Hookers Sealions was a very special place. Having seen many fur seals, in many places during my three months in New Zealand it was fabulous to see so many pups playing around on the rocks and in the pools on the adjacent shoreline. The Monarch Cruise and the Albatross Centre both delivered worthwhile experiences but your penguin conservation area was a stunning highlight.
Thanks, Robert Burton
Saturday, 28 January 2012
Sent from my iPad
Today we had a private tour with Warren. It was a GREAT day. My wife and I are wildlife novices, but Warren's passion for this work was contagious. We had a wonderful day and are making plans to come back for more.
Debra and Roger Schultz
Wednesday, 25 January 2012
Hi Brian, I wanted to say thank you so much for a wonderful day on our shore excursion with Elm wildlife tours yesterday. Everything was handled so professionally, Suzanne and John were great guides. Could not have been handled any better and we have not been on a better tour than yours!
Thank you, Donna, LeRoy, and Sandra
Monday, 09 January 2012
Hi Elm Wildlife Tours,

Thank you so much for the unforgettable experience that I had in the tour with Suzanne and Donna on 5 Jan. 2012. The encounter with the albatross, penguins and sealions was breathtaking (sheep and rabbits as well). Suzanne and Donna were friendly and very knowledgeable about those animals. I was also struck by the stunning beauty of the landscape and enjoyed the company of people in the same group. The tour was actually the highlight of my trip!

Best wishes, Sanae Japan
Monday, 12 December 2011
Hi Folks,

Just thought that we would like to thank you for the wonderful tour we had off the Pacific Dawn on 24th November. It was our first stop ever in NZ and Port Chalmers/Dunedin are such beautiful places. If it weren't so cold, we would probably think of coming for a visit -we really feel the cold coming from Queensland. To yourself and all your staff, thanks for giving us such a great day. I have put a cruise review into Oz Cruise Club and thoroughly recommended Elm Wildlife Tours and you never know, we may come back. All the best for the future and a very happy Xmas and New Year

Neale and Glen Horrocks AUSTRALIA
Monday, 24 October 2011
Hi All,Just wanted to say a belated thanks for the fab tour we went on with Brian on 16th September. This was my second excursion with Elm Tours, and I brought my family back, 14 years on. We had a great time - seeing fur seals, yellow eyed penguins, hooker sea lions, and many birds. The Otago Peninsula was beautiful, and the reserve was a little corner of a special place. Brian's knowledge and enthusiasm was infectious, and the whole family loved it.
Thanks again, Jenny Ansett, Edinburgh
Monday, 10 October 2011
Thank you for a fantastic wildlife tour on Wednesday, October 5, 2011! This was a wonderful experience and the best activity I did on my entire trip around New Zealand, and is something I will definitely do again on my next visit. Shaun's knowledge and enthusiasm added so much to the adventure; you can tell he really enjoys what he does and that it is much more than just a job to him. Your tours are an absolute must-do activity! I also appreciated Shaun's suggestions on other wildlife and outdoors activities in the area.
Best regards, Andrea Shetley, Tennessee, USA
Thursday, 01 September 2011
Hi Elm,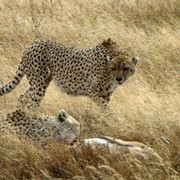 Arrangements throughout my African safari were excellent, everything went well without a hitch. It was the best holiday in my life, Kenya and Tanzania were just absolutely amazing. I enjoyed Kenya very much, but Tanzania was outstanding, 16GB of video and pictures, had to buy 2 more cards. To see Lions walking right beside your car is really something. Television shows the country and animals, but seeing it all in reality is totally different, it's hard to explain what one feels. The indescribable poverty people live in, is a totally different world. The accommodation and food were good, and oh yes, then there was the balloon flight from Masai Mara, the pilot had to land in Tanzania, which was a change of plan, nevertheless, a champagne breakfast was laid out for us right there, in the middle of nowhere. I am really thrilled that because of you I was able to go on this safari. Have a great time on your next trip
Cheers, Sabine
Monday, 08 August 2011
Just want to say a MASSIVE thank you for everything while we had the Aussie agents over. They loved the tour especially the little extras, and especially the ride up the hill on the ute.
Cheers, Luke Gerbin - Australian Sales Rep
Saturday, 02 April 2011
Hi Brian
Thought I would send an email to thank you and your team for making our group's Saturday visit to the Otago Peninsula such a wonderful experience. I have had many emails from our group who said how much they enjoyed the day and especially the Guides who all contributed so much as well. If you can pass on my thanks and gratitude.
Thanks and regards
Eddie